SPINA SPEAKS to the WASHINGTON EXAMINER
Posted: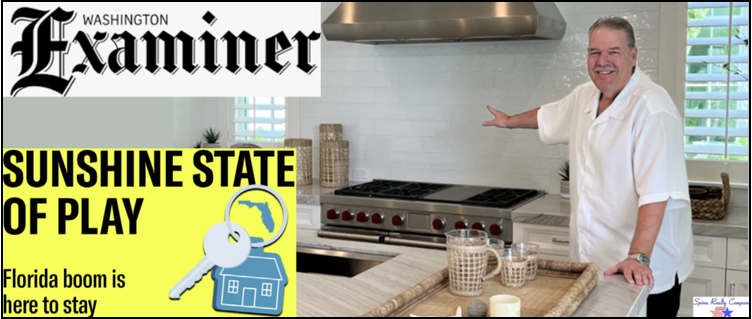 Florida defies national housing 'recession' with post-pandemic boom
NAPLES, Florida — In downtown Naples, nearly every street along the turquoise waterfront has an active construction project, whether a new home or a remodel.
Almost every part of Collier County, southwest Florida, and South Florida more generally has only been expanding more after people began relocating to the Sunshine State to escape pandemic restrictions in the rest of the country.
Naples, a city of about 20,000 people, is part of the much larger Collier region, which boasts some 375,000 residents as of the 2020 census. "Naples," which is now the name used to reference much of the county west of Interstate 75 even beyond city limits, has become an in-demand locale for out-of-staters attracted to the wealth, coastal lifestyle, and hot labor market.
The area is a major contrast to other parts of the country. The National Association of Homebuilders last year declared a nationwide "housing recession," which is expected to deepen next year as higher mortgage rates have put home buying out of reach for many sales and slowed starts of new construction.
In San Jose, California, for instance — long one of the hottest housing markets, thanks to the long ascent of nearby Silicon Valley — housing prices have fallen 8.8% over the past year, according to Redfin. Prices have dropped 4% in New York City and 4.6% in Los Angeles.
Prices have declined more than 16% in Austin, Texas, which was also a popular pandemic destination, rivaling Florida.
But South Florida is defying those trends. Naples has seen 13.1% growth over the past year, and Miami has had prices rise 7.6%. In Fort Myers, prices have climbed nearly 14% in the past year alone — astonishing growth that cuts against the national housing recession narrative.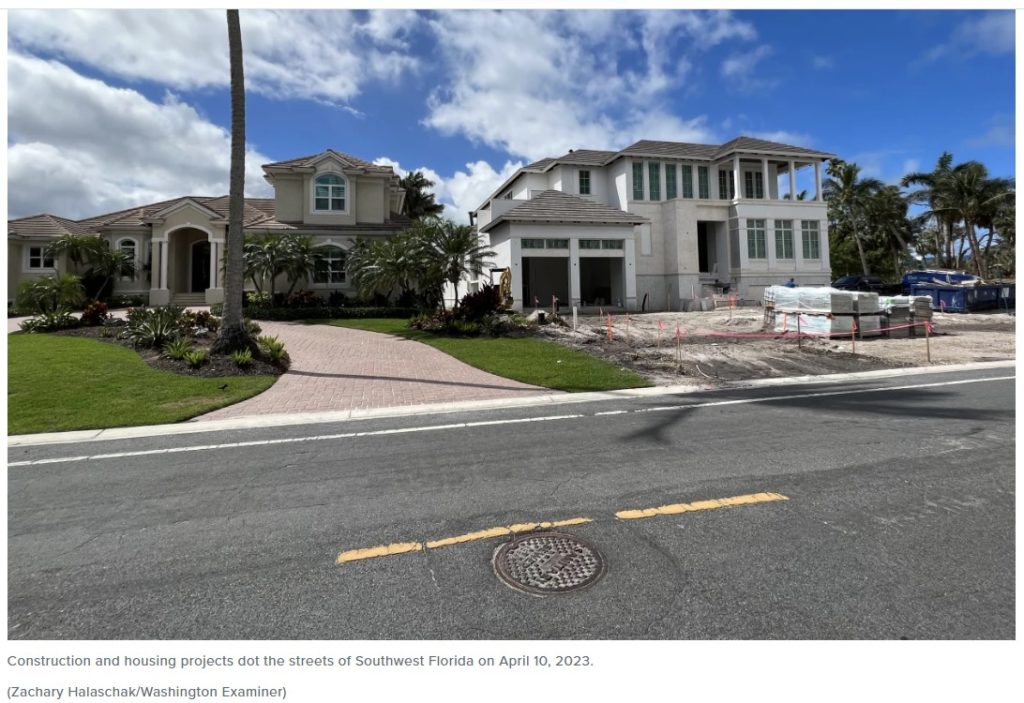 The residence is a "spec home," which is one built without a specific buyer already in mind. Its construction shows Spina's confidence in the housing market. On the short street near where that house is listed, construction workers could be seen at several other sites and work vans lined streets around the area.
The property is set up to project a relaxed Florida lifestyle to entice wealthy buyers from the Northeast and elsewhere. The color scheme is light, and shades of blue and green evoke the nearby ocean and palm trees.
More info: Contact Chris Spina at 239-273-5270 or Chris@SpinaRealty.com
Florida's pandemic boom is extending even though others states have long since dropped restrictions. Several people interviewed by the Washington Examiner mentioned that some migration was linked to the laxer pandemic restrictions Florida imposed as well as the ability for younger people to keep their jobs in New York City and major cities while moving to the Sunshine State and working remotely.
Bill Gaston, owner of Naples-based construction management firm BUILD, told the Washington Examiner that, anecdotally, some of the inbound migration has been driven by politics. He noted the conservative direction Gov. Ron DeSantis (R-FL) has taken the state in recent years. Just a decade ago, the state was seen as a purple swing state, but in recent cycles, it has become a bastion of conservative Republicanism.
DeSantis, a strong opponent of the lockdowns and business closures typical for blue states during the pandemic, served as a beacon for those chafing against restrictions. The lower tax burden, coupled with the growing tide of conservatism, proved an effective lure for many.
"Definitely saw a much stronger migration of Northeastern people and Californians than we have ever seen," Gaston said, noting that many more were from the Midwest before the pandemic. "And I think a lot of that, on the client side, was driven by the politics of everything with COVID."
Gaston said his company's annual revenue was about 24% higher in 2021 than in 2020. In 2022, the company marked a whopping 85% growth in revenue from the year before, and if revenue projections for this year hold true, the business will bring in 38% more revenue than last year.
Florida also has no income tax, one of only nine such states. Living in a high-tax state like New York or California, which have top marginal rates in the double digits, can eat away at earnings quickly. A move to Florida can mean more money in the bank and more money to spend in the local economy.
Vikki Salese, who works in real estate, moved to Florida in July 2021, just over a year after the pandemic began, from Connecticut. She said it had been a dream to move south for some time but was never a possibility in terms of work. But her husband, who works in finance, was granted full remote work, and the move began to seem possible. She also noted that one of her sons was struggling with virtual learning, another factor weighing in favor of moving to Florida.
"We got to spring of 2021, things were not getting better; our COVID policies up there were quite different than what was going on here," she told the Washington Examiner.
"Everything seemed to fall in place," Salese said about the ability to remote work plus the educational opportunities a pandemic-era relocation afforded. "For us, it was definitely the best decision; we have not looked back."
Salese said her family has benefited financially even beyond the income tax savings. They don't need to worry about paying for heat in the winter and don't need an entirely new wardrobe for the cold and snowy months up North. Also, in dealing with snow, Florida residents don't need to worry about paying extra for an all-wheel drive vehicle.
"The taxes definitely are lower with no state income tax, and even our property taxes aren't so bad," Naples City Council member Ted Blankenship told the Washington Examiner.
For instance, take someone who is working at an accounting job in New York City. If they are earning $200,000 annually, their take-home pay after taxes is $5,197 on a semimonthly basis, or $124,728 per year. If that same accountant were to move down to Naples, they would net nearly $6,000 twice per month, meaning they would get more than $19,000 more in earnings each year.
The scene in downtown Naples is serene yet still buzzing with activity. Construction equipment can be heard amid the ambient sounds of birds and the breeze blowing through the carefully manicured Florida landscaping. Private jets increasingly cut through the light blue sky, carrying visitors and potential residents bound for the area. Spina said the sound of incoming and outgoing jets has grown alongside the area's housing market, speaking to the infusion of people and wealth driving the region's breakneck activity.
Nearby cities like Marco Island, Bonita Springs, and Fort Myers have also seen big spurts of growth. During the winter, when the bevy of new permanent residents over the past few years mingles with the crush of seasonal residents, it can be difficult to find a parking place on Marco after crossing one of the two bridges connecting it to the mainland.
From April 2020 to July of last year alone, just over two years, the population of Collier County ballooned by about 6%, according to the U.S. Census Bureau, building upon longer-term growth trends in the area. The Naples area has cemented itself as a bastion of wealth as housing prices keep soaring yet without deterring buyers, many of whom forego mortgages and pay in cash (meaning they are not hurt by the higher mortgage rates over the past year). But there have been some key changes in those moving to the area; instead of elderly retirees from the Midwest, demographics are evolving.
"The average age is getting younger. We are seeing more young buyers with families," Budge Huskey, CEO of Premier Sotheby's International Realty, told the Washington Examiner.
Just under 100 miles away, on the other coast of Florida, the Miami real estate market is also still strong. Ines Hegedus-Garcia, chairwoman of the Miami Association of Realtors, the nation's largest local Realtor association, said while the housing market has slowed a bit from its breakneck post-pandemic pace, it is still red hot despite markets in other parts of the country coming crashing down.
"The real estate market is gradually returning to a more stable state following the pandemic; however, Miami continues to outpace national trends," Hegedus-Garcia told the Washington Examiner. "Despite the growing inventory, property prices in Miami continue to rise, albeit at a more modest rate.
"The city's real estate market is unique due to the significant number of cash transactions and the high rate of migration," she added.
The skyline of Brickell towers over the city of Miami and is notably marked by large cranes and construction projects, owing to a massive growth in migration over the past few years. The neighborhood is located just south of downtown and is a densely packed mix of residential apartments, ritzy condominiums, and layers of restaurants and shops built not only out but up. In fact, the neighborhood has the highest ratio of people moving into the area vs. out in all of Miami, according to data analyzed by moveBuddha.
Prices in the hip enclave have soared (alongside Miami as a whole) as a result of the surge in demand. Right before the pandemic took hold, the average home value in the main Brickell ZIP code was just over $385,000, according to Zillow. That has since swelled to nearly $600,000 at the end of last year, a jaw-dropping 55% increase in three years.
Salese is one of the thousands of people who have moved to Florida in recent years — something that has caused the housing market in South Florida to remain buoyant even as other markets across the country now face grim prospects. Population data released late last year from the U.S. Census Bureau showed that Florida was the fastest-growing state, adding a 1.9% population increase from 2021 to 2022 alone. It is also worth noting that Florida's population has grown every year since 1946, even during years of national decline.
The Sunshine State's population boomed a whopping 14.6% from 2010 to 2020 and 34.8% since 2000.
Compare that to a state like New York, which, between July 2021 and July 2022, lost some 180,341 residents. California's total population declined by more than 500,000 between the start of the pandemic and July of last year.
"It's a continued flow, and a lot of it's because of the way the economy is run in the state of Florida. That's what it is," Spina, the Realtor, said.
Gaston noted that, for southwest Florida specifically, Hurricane Ian further caused demand for construction work, including rebuilding and restoring homes that were damaged. That has compounded activity in the area. He doesn't expect the housing market to slow anytime soon.
"There is not enough supply of labor to meet the demand of just the rebuild alone, let alone the growth in the market. I do not expect any recession at all for our area in the construction industry," he said. "In fact, it would be great if it slowed a little bit because it would make the projects more manageable for us."
Contact Chris Spina at 239-273-5270 or Chris@SpinaRealty.com